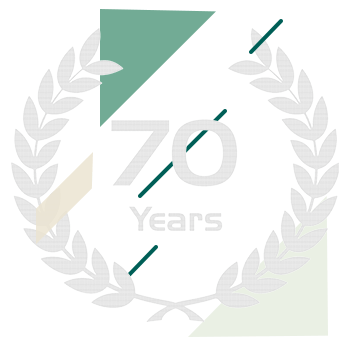 Growing with our customers.
Over 70 Years of

Your Trust
Started by Eric Walsh and Percy Ford as a business to cater for needs of local farmers for custom made items and implements, it has developed a strong name in conjunction with quality and a product range most competitors would envy.
Based in the heart of Dalby in Dan Street on a 990m2 plot, WALSH & FORD has developed into a 1400m2 factory on a 3500m2 site, with expansion now in its plans for the future.
Originally the initial work performed by Eric Walsh and Percy Ford was based on farmers' requirements. However, with the development of Dalby and the Darling Downs, demand for specific items grew as did WALSH & FORD, producing items from bagging hooks to saleyard gates, from hinges to steel shed frames etc. All and any work was taken on.
The 1960's saw the advent of bulk handling, which propelled WALSH & FORD onto another level. Production of augers and bulk bins dominated works and levels of over 100 units per season were not unheard of. In those times of the 1960's in rural Australia, this was a major feat.
The advent of the 1970's saw the death of Percy Ford, which unfortunately destabilized the business for a period of two years. Niche markets were targeted by competitors, whilst WALSH & FORD struggled to financially stabilize itself. Focus once again led to core work being custom builds and maintenance to large corporations. This allowed WALSH & FORD products like augers etc. to be fined tuned. This ideal of keeping continuous work process in order may have led to loss of market share but offered continuous stability and profitability for the business.
Today WALSH & FORD products are seen in the market place as high in quality for value as well as innovative. Their corporate client list continues to grow. Examples are Qld Cotton, Allied Mills, Riverina Stockfeeds, Ridley Corporation, Hansen, Agility, Peabody Wilkie Creek Mine, Arrow Energy, McConnell Dowell, Diversified, Maralong Milling, Hi Feed, APA Group, PB Agri Foods & Mega Electrics etc.
walsh and ford

TEAM history
Here is the list of our first 100 team members over the last 70 years. Each era saw changes and challenges, and all our staff brought hard work and innovations with them throughout the years.
1940's
Started by Eric Walsh and Percy Ford as a business to cater for needs of local farmers for custom made items and implements. Eric led the company till 2001, and Percy till 1970.


Key Industry events;

1946 – Post war era, Eric Walsh & Percy Ford were both leading hands at Napier Bros. After working all day for the war effort, Eric and Percy spent countless hours after work fabricating items at Wharf St in Dalby for local farmers. Many items were not able to be easily sourced during this tumultuous time, or were items that Napier Bros were not interested in manufacturing.
1949  - Increased and overwhelming demand of their products led to the first Walsh & Ford's manufacturing shed being constructed (which was built by Percy Fords father) at 4 Dan Street, Dalby. The land was purchased off 'Honey' Green a local apiarist, whose son Ken Green became Walsh & Fords first apprentice.
1950's
During the early 1950's it was  primarily forging components for the local sale yards & everything and anything. In the middle of fifties, the development of grain augers and truck mounted bins for local farmers begin to gain popularity.
The 50's saw our team begin to expand with the following coming on-board;
3. Neil Brigenshaw
4. Doug Woolgar
5. Keith Gilland
6. Les Allen
7. Ivan Chambers
1960's
The 60's saw bulk handling equipment demand increase dramatically. The team began to design and bring in many new items, most notably were  combination bins for planting, field rollers and 180 Bag field bins.

Now past our first decade, the employees who joined us in the 60's were;
8. Ken Green
9. Reg Teale 
10. Lindsay Duffy
11. Doug Land
12. Pat Alexander
13. Geoff Bradley
14. Derrick ( Bull) Chambers
15. Ron (Boots) Stonebridge
16. Cliff Crawford
17. Bob Glasby
18. Neville Keen
19. Les Woods
20. Nev Lucht
21. Morrie Nalder
22. Cliff Parker
23. Tom Corkhill
24. Arthur Collins
25. Jim Rynne
26. Woody Flynn
27. Ross Fels
28. Ken Ernest
29. Allan Ernest
30. Max Green
31. Cyril Holmes
32. Eric Cameron
33. Robyn Tully
34. Joan Austin
35. Rob Parsons
36. Joe Power
37. Ken McCrae
1970's
Sadly the 1970 saw the passing of Percy Ford. The team dedicated themselves to his memory, bringing life to even more new ideas. Grain Buggies made their first appearance along with on farm fuel trailers. Commercial contracts work with various stock feed suppliers & flour mills were established, and our solid reputation for supplying bulk handling goods for farmers in the markets of Northern NSW / Central & Western Queensland are firmly established during these booming years.

Our trusted staff continued to be as reliable as ever in the 70's, and newcomers to the Wash & Ford company were; 
38. Denis Vaughn
39. Peter Henright
40. Wally Holmes
41. Brian Lynham
42. Bernie McGuire
43. Peter Mullins
44. John Watts
45. Graham Slade
46. Bruce Sargent
47. Rob Turner
48. Ross Houndslow 
49. Mark Houndslow 
50. Eddie Beale
51. Owen Chiverton
52. Peter Bowman
53. Brian Chiverton
1980's
During the 80's Australia had some exceptional good growing seasons. Farmers needed more bulk handling equipment than ever, and Walsh & Ford were the first on the Darling Downs to develop Barrel Belt Conveyors. With the reintroduction of cotton growing crops, custom construction and regular machinery maintenance at Cotton Gins came about. 

During this time we had more new faces come along. Less turnover than previous years, and the latest in innovative thinking and machinery design.
54. Paul Bowman
55. Bob Muller
56. Damian Kruger
57. Tim Phillips
58. Shane Harris 
59. Doug Aldridge
1990's
The 1990's saw a huge shift in manufacturing technology as advancements and computerised processes became the 'new' way to operate. 
We began to see the introduction of foreign overseas manufactures into our local markets. Haul out bin production is developed in the mid 90's along with undersilo conveyor systems. Walsh & Ford re-developed our Combination bin, Self-Propelled Conveyors & Auger designs. We also introduced our 20'ft Shipping container inverters for the local cotton seed packing for export – which then became the primary container systems for bulk grains.

Our current head of operations - Peter Walsh - took the reins in 1992.
60. Mick Thearkauf 
61. Peter Walsh
62. Damian Parsons
63. Rob Ingle
64. Ray Brook
65. Geoff Parker
66. Gil McGlinn (Jnr)
67. Trevor Robb
68. Peter Swift
69. Tony Roots
70. Stewart Smith
71. Rob Noy
72. Bruce Dalton
73. Geoff Roylance
74. Dan Norman
75. Steve Rogers
76. Bill Drews
77. Nobby Byers
78. Greg Pearce
2000's
Sadly, in 2001 saw the passing of Eric Walsh. Company growth by this stage meant that the Walsh & Ford manufacturing plant at Dan Street needed to be renewed and expanded for maximum flexibility.

Manure Spreader Chaser Bin Combos are developed as another market, and primary steel processing for coal seam methane companies was a solid offering for over 5 years.

Coming into a new era, the first decade of the 21st century saw tremendous change in the agriculture sector. More automation, larger crops, multi-purpose systems and bigger everything was needed. We welcomed the following to our team during this time;
79. Howard Jiggens
80. Bill Bishop
81. Mick Lomas
82. Darren Jiggens
83. Ian Thomas
84. Matt Stower
85. Craig McNight
86. Peter Whittle
87. Kyle Cross
88. Joshua Vandercroff
89. Scott Brisbane
90. Matt Cassidy
91. Quintin Wassel
92. Elliot Scarffe
93. Troy Love
94. Alister Venter
2010 onward
2010 saw the expansion of feedlot interests and additional cotton gins as far afield as central Qld to western Qld to Central NSW. Once again Walsh & Ford met our customers needs and demands by carrying out more industrial refurbishment toi their main plant, to enhance production capability.
As we entered 2020, retail development boomed with Walsh & Fords range of power transmission products for BOC Industrial Gas's and Consumables. We also began developing Shearer's range of Agricultural products as an additional side line to the manufacturing base.

... and here we come to the end of listing our first 100 employees at Walsh & Ford. Each member has been an integral part of growing our company to the stand out leader in bulk handling equipment and grain, fertiliser and seeder systems.
95. Charles Lange
96. Robert Sheather
97. Brendan Pearce
98. Zac Gleeson
99. Nicholas Roos
100. Hugh Muhldorf
101. Travis Nelson
We often refer to what you normally describe as a problem, as just another job we will happily solve for you! So get in touch today, and let us know how we can help.