Walsh and Ford

Standard Conveyors
Walsh and for have been manufacturing barrel belt conveyors from 1980's onward giving us the experience and know-how to produce a product that is robust, functional and adaptable to meet any conditions.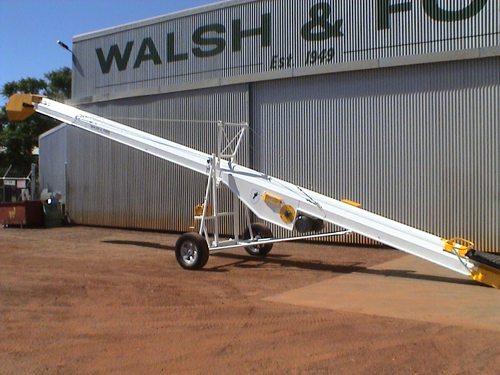 Call us for any special requirement or features.
Manufacturing Barrel Belt Conveyors from 1980's onwards.
Standard size 9″ diameter & 11″ diameter. Custom build in sizes above and below.
Petrol/Diesel Electric or PTO versions.
Minimum barrel thickness 2.5 mm / 12 gauge.
Unique skirt design prevents dust accumulation.
Large strong undercarriage for grain delivery to 27º angle plus dump site building & retrieval.
Pulleys cast iron with steel taperlocks.
Built to strip down if tail crushed by semi trucks.
Hoist, lift arrangement superior to wire rope / pulleys.
'Drive Around' hubs are lock in / lock out. Similar to 4 wheel drive vehicles, far more superior to ring gear / pinion or chain sprocket drives.
Return rollers 60.3 diameter with CNC lathed housings inserted into pipe for long life.
Standard or low profile hoppers available that clip onto unit.
180º rollers full adjustment at housings to allow for precise belt adjustment.
Fuel tanks removable for refilling.
Belt guards are meshed for viewing and prevention of vermin build up.
Conveyor is fully self cleaning plus 'Drive Around' units allow for full blow down due to their unique tail ram action.
Option of stainless steel with powder coat frames and two pack finish for use in fertilizer handling.
'Drive Around' system allows for one man operation of unit.