Walsh and Ford

Grain Cart / Haul Out Bins
About Our

Grain Cart / Haul Out Bins
Walsh and Ford have been manufacturing Chaser / Grain Cart from 1990 onwards gaining a reputation for quality, durability and value for money. We continue to invest in new technologies to produce a product that exceeds any farmers requirements.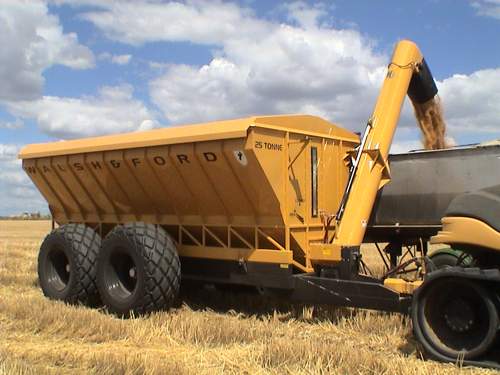 Call us for any special requirement or features.
Series 6 PTO
Clean out slide
Internal / external ladders
Greasable axle
Fully guarded at drive and gearbox
Auger hopper spout
Adjustable pull
Internal hydraulic shut-offs
Provision for roll over tarp
Slip clutch
12 gauge sheet
Fully welded internally
¼″ thick flight horizontal and incline auger
Rims are included in 'no tyre' price.
Chassis 200 x 100 x 6mm RHS.
Axle single 125 x 125 x 9mm RHS.
Stub 110 diameter 4140 grade high tensile.
Hubs 20 mm plate 150 diameter ASSAB with quality truck tapered roller bearings cups and cones heavy duty.
10 x One inch wheel studs.
15″ or 19″ unload auger 6mm flight on heavy wall 88.9 OD pipe 9″ or 12″ horizontal flight 6 mm thick.
Full length clean out slide. Auger incline. Clean out door.
Wall angles 40º – 45º angle minimum.
Series 6 PTO 1000 RPM drive standard.
Gear box 15″ auger 66 hp.
Gear box 19″ auger 110 hpl.
Auger barrel thickness 12 gauge.
Outload auger balanced.
Bogey axle main pin 4140, 3.5 diameter with hollow bar bush 132 x 80 bores with grease groove.
Adjustable pull 40mm thick.
15″ capacity 300 tonne/hour and 19″ capacity 580 tonne/hour.
12 gauge wall thickness with perspex sight front and back .
Outrigger bearings to allow long life of shafts, gear boxes etc.
Slip clutch with tower above pull to prevent damage to PTO's from uneven ground.
Client choice of colour.
Only Parker 3/8 hose quality plus field attachment fittings used.